Useful Information
Whether you choose to attempt the 100 miles stretch of the South Downs Way all at once, break it up over several weekends, or prefer to tackle it one small section at a time, completing the South Downs Way is an accomplishment to be proud of.
Below we have compiled an assemblage of essential information and emergency contacts to support you in your pursuit through the beautiful South Downs countryside. From forest authorities and hospitals, to useful shops and stops along the way, we have you covered.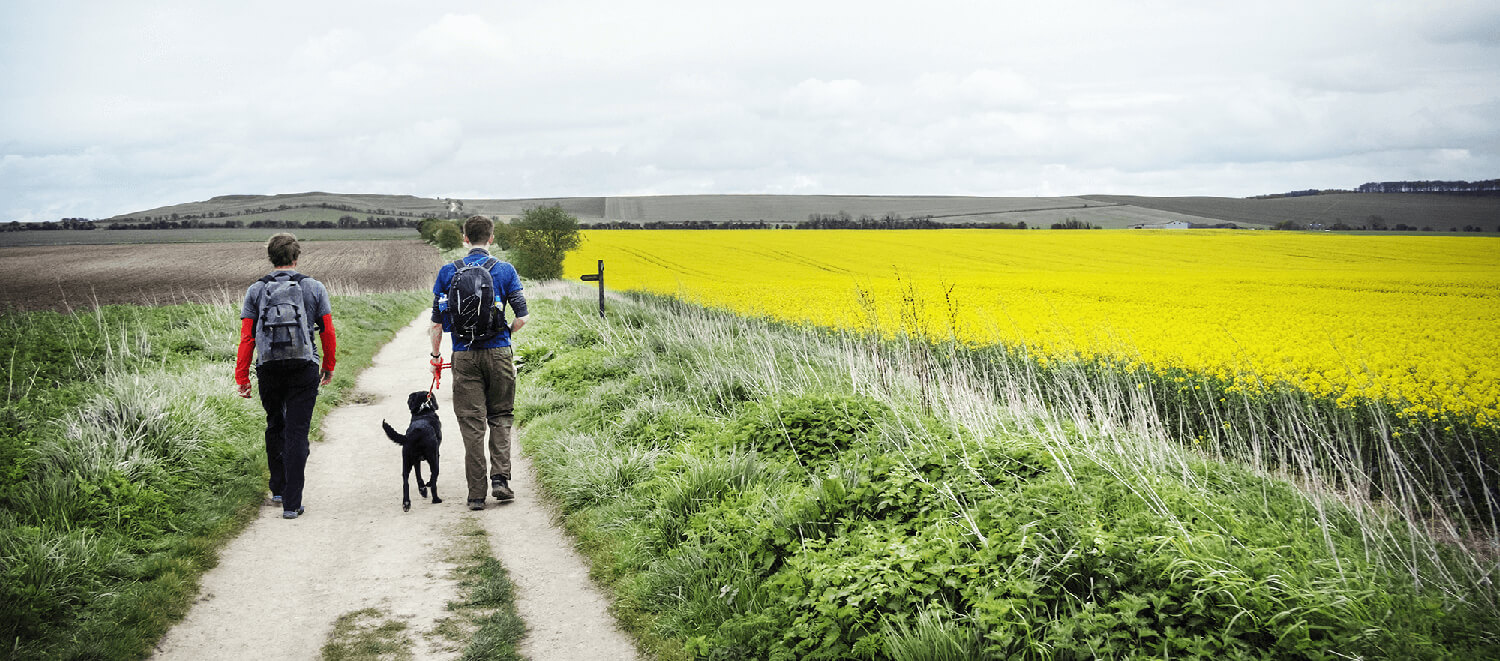 Forest Authorities
---
During your walk through the South Downs Way, should you encounter any environmental problems within the park such as rights of way, flooding or have another concern please get in touch with the relevant County Council within the National Park.

Hampshire County Council: 0300 555 1391

West Sussex County Council: 01243 777100

East Sussex County Council: 0345 608 0193

Brighton & Hove County Council: 01273 292229
Coast Guards
---
With a part of the South Downs Way encountering Coastal areas it is important to remember that in order to reach a Coast Guard in the case of an emergency you should dial 999.
Hospitals
---
In the event that you require medical attention and are not in need of the emergency services; there are a number of hospitals located along the South Downs Way.

Royal Hampshire County Hospital (Winchester): Romsey Rd, Winchester SO22 5DG, 01962 863535

Petersfield Community Hospital (Petersfield): Swan St, Petersfield GU32 3LB, 023 8231 9000 (minor injuries only)

St Richard's Hospital (Chichester): Spitalfield Ln, Chichester PO19 6SE, 01243 788122

Worthing Hospital (Worthing): Lyndhurst Rd, Worthing BN11 2DH, 01903 205111

Royal Sussex County Hospital (Brighton): Barry Building, Eastern Rd, Brighton BN2 5BE, 01273 696955

Eastbourne District General Hospital (Eastbourne): Kings Dr, Eastbourne BN21 2UD, 01323 417400
Pharmacies
---
If you should need a pharmacy on your journey through the South Downs Way, we suggest using this helpful NHS pharmacy locating tool.
Emergency Out of Hours Vets (Small Animals)
---
In the event that your pet has an accident while walking on the South Downs Way, a number of emergency, out of hours small animal practices are available along the way.

Vets Now (Winchester): Easton Lane, Winchester, SO23 7RU, 01962 808306

St Peters Vets (Petersfield): St Peter's Rd, Petersfield, GU31 4AA, 01730 266431

Vets 4 Pets (Chichester): Portfield Way, Chichester, PO19 7YH, 01243 785348

Grove Lodge Vets (Worthing): 18 Upper Brighton Rd, Worthing BN14 9DL, 01903 234866

Coastway Vets - VetCall (Brighton): Freshfield Business Park, Freshfield Way, Brighton, BN2 0DF, 01273 621 682

Vets Now (Eastbourne): St. Annes Road, Eastbourne, BN21 2DJ, 01323 301292
Equine Hospitals
---
Should your horse sustain an injury at any point on your journey through the South Downs Way, both Liphook and Sussex Equine Hospitals are nationally renowned practices, available in the area.

Liphook Equine Hospital (Liphook): Forest Mere, Liphook GU30 7JG, 01428 723594

Sussex Equine Hospital (Ashington): Billingshurst Rd, Ashington, RH20 3BB, 01903 883050
Supermarkets
---
If you require a supermarket at any point during your walk, we suggest using Yell to locate the supermarkets in closest proximity to wherever you may end up.
Camping Supplies
---

Mountain Warehouse (Winchester): 21 High St, Winchester SO23 9JX, 01962 866332

Cotswold Outdoor (Chichester): 51 East St, Chichester PO19 1JG, 01243 788167

Mountain Warehouse (Worthing): 35 Montague St, Worthing BN11 3BE, 01903 230187

Cotswold Outdoor (Brighton): 186 Western Rd, Brighton BN1 2BA, 01273 821452

Mountain Warehouse (Brighton): 126 Queens Rd, Brighton BN1 3WB, 01273 727580

Trespass (Eastbourne): 106-108 Terminus Rd, Eastbourne BN21 3AJ, 01323 725516
Bike Mechanics
---

Bespoke Biking CIC (Winchester): 4a Middle Brook St, Winchester SO23 8AD, 01962 441962

Owens Cycles (Petersfield): Stoner Hill, Steep, Petersfield GU32 1AG, 01730 260446

Geared Bikes & Wear (Chichester): 70 Stockbridge Rd, Chichester PO19 8QJ, 01243 784479

South Downs Bikes (Worthing): 301 Goring Rd, Worthing BN12 4NX, 01903 244644

Southover Cycles (Brighton): 157 Queen's Park Rd, Brighton BN2 0GH, 07847 209487

Black Bikes (Eastbourne): Station Parade, Eastbourne BN21 1BD, 07873 126093