Buriton to Cocking (11 Miles)
Once you are back on the South Downs Way, you pass near South Harting and into West Sussex. Harting Hill provides some excellent views – there is also a National Trust car park here which you will be able to locate using a South Downs Way route map, this does make it a busier section of the route. This section is also popular with horse riders and kite flyers and is visited by people wanting to walk the National Trust "circular walk".
The Harting Down car park does get busy on weekends so we recommend that you plan your route accordingly! From here you can really appreciate the spectacular panoramic view of the South Downs. The path near the car park is wide and grassy and this stretch has lots of ups and downs, so be warned! After leaving the car park, the path changes to a chalk path descent which can be slippery when wet, whether on foot, horse or bike,  so be careful. You will eventually meet a signpost – follow the sign for the South Downs Way, or if you want to cut out a section you can review your South Downs Way route map and follow a path straight up the steep hill directly in front of you to save walking around.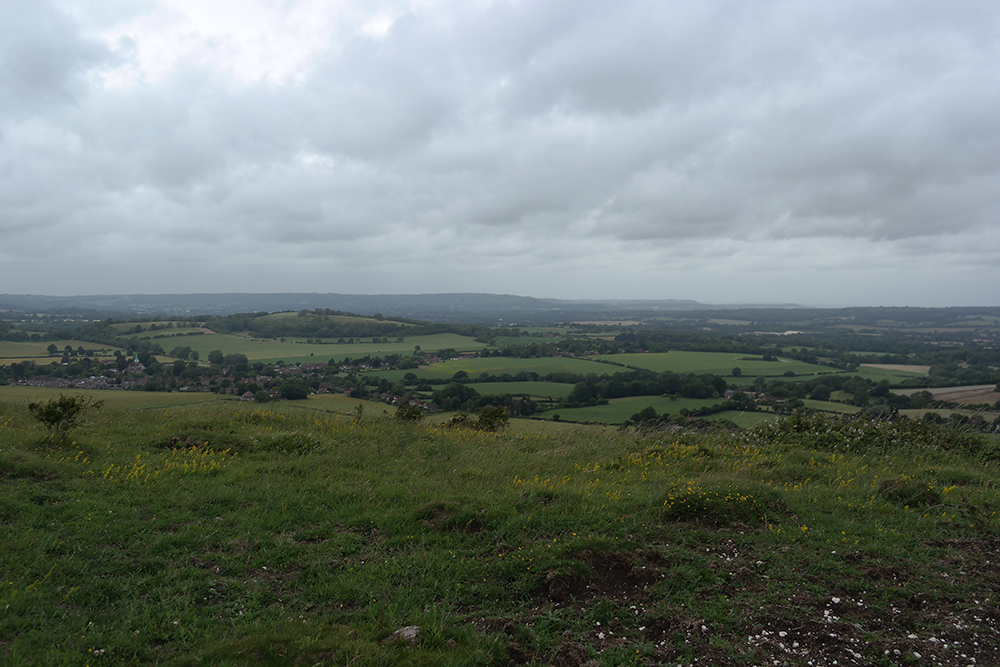 After Harting Hill you will find yourself at Beacon Hill which is a great spot for a picnic and has some lovely views. The hillfort dates to the Bronze Age and is a Scheduled Ancient Monument. The path then takes you through some woodland and afterwards 'Devil's Jumps' which are some large tumuli.
On Cocking Down you pass by Andy Goldsworthy's Chalk stones which is essentially a chalk ball and you can follow a trail to see all of his sculptures (perhaps not at the same time as walking the South Downs Way!). The path then goes down to Cocking, where you can find somewhere to stay or have something to eat.
For a B&B you can stay at the Moonlight Cottage or for something to eat you can eat at the Bluebell.  If you want something a bit further out or can't find accommodation in Cocking, you can try the Rose Cottage in Singleton and there is a pub in Singleton too.